Show Info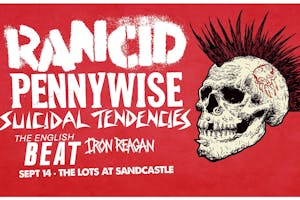 Presented By Drusky Entertainment
Rancid
Pennywise, Suicidal Tendencies, The English Beat, Iron Reagan
The Lots at Sandcastle
West Homestead
,
PA
Rancid with special guests Pennywise, Suicidal Tendencies, The English Beat, & Iron Reagan - This event is all-ages!
This is a General Admission event!
Don't miss Rancid at The Lots at Sandcastle with special guests Pennywise, Suicidal Tendencies, The English Beat, & Iron Reagan on Saturday, September 14th, 2019. Rancid tickets go on sale Friday, June 21st at 10:00AM ET!
Doors open at 4:00PM.
RE-ENTRY POLICY
There is a strict NO RE-ENTRY policy for this Saturday's event
Day of Show Information
SCHEDULE
 *ALL TIMES ARE SUBJECT TO CHANGE AT ANY TIME
4:00 PM DOORS
5:00 - 5:30 PM Iron Reagan 
5:50 - 6:30 PM The English Beat 
6:50 - 7:40 PM Suicidal Tendencies
8:10 - 9:00 PM Pennywise
9:30 - 10:30 PM Rancid
PARKING
- Parking is available at the venue. Please use the entrance into Sandcastle via Sandcastle Dr. (NOTE: The Hays Street entrance will NOT be open)
- Parking will be available for $10.00. Parking gates open at 2:30PM
- Tailgating is NOT permitted in the Sandcastle parking lot
- Handicap accessible parklng will be available as well at the venue. Please notify the parking attendant if handicap parking is required upon arrival to the Sandcastle gates
- We do not recommend parking in surrounding lots outside of the venue, as private lots will be monitored and you will be towed at the lot owners discretion.  
PERMITTED / PROHIBITED ITEMS
The following items will be permitted, but are subject to inspection 
Non-Professional Cameras (professional camera is defined as a lens in excess of 3")
Cameras are permitted but must not interfere with another fan's enjoyment of the show. The images reproduced may not be used commercially.
Cell Phones
Medium Size Purses (no larger than 8.5" x 11" x 14")
Draw String Bags 
20oz Factory Sealed Bottle of Water (limit one per entry)
Diaper Bags (only if accompanied by child)
*All items subject to change without notice and per artist's restrictions.
 The following items are prohibited:
*Possession of a firearm or weapon is strictly forbidden and will result in immediate confiscation, ejection and possible arrest.
Aerosol Cans
Alcoholic Beverages
Animals (disability service animals allowed)
Backpacks
Bags - Large (larger than 8.5" x 11" x 14")
Balloons
Beach Balls
Cans or Bottles (bottled or boxed liquids)
Canvas Camping/Lounge Chairs
Cups
Commercial audio/video recording equipment
Confetti or Glitter
Coolers of any kind - including small soft-sided coolers
Drones or UAVS
Ice Chests
Fireworks or Missile-like objects
Footballs
Frisbees
Illegal Substances
Knives
Large Camera Cases
Large Posters, Flags & Banners
Large Purses
Laser Pointers
Mace or Pepper Spray
Noisemaking Devices - air horns, bells, bullhorns, thundersticks, whistles
Plastic Bottles - other than 20oz factory-sealed bottles of water
Sticks, Poles, Bats & Clubs
Selfie Sticks
Strollers
Thermoses
T-Shirts or Clothing items with vulgar language or phrasing
Umbrellas
Wallet Chains
* Management reserves the right to deny entry to any person noncompliant with the above. All items subject to change without advance notice.
** Any other items deemed unlawful or dangerous may be prohibited at the discretion of security personnel. No prohibited item will be held at the gate.  
FOOD AND BEVERAGE
- Food and beverages will be available for purchase at the venue
Please note - there will be no ATMs on-site. All bars, food vendors, etc. will accept card or cash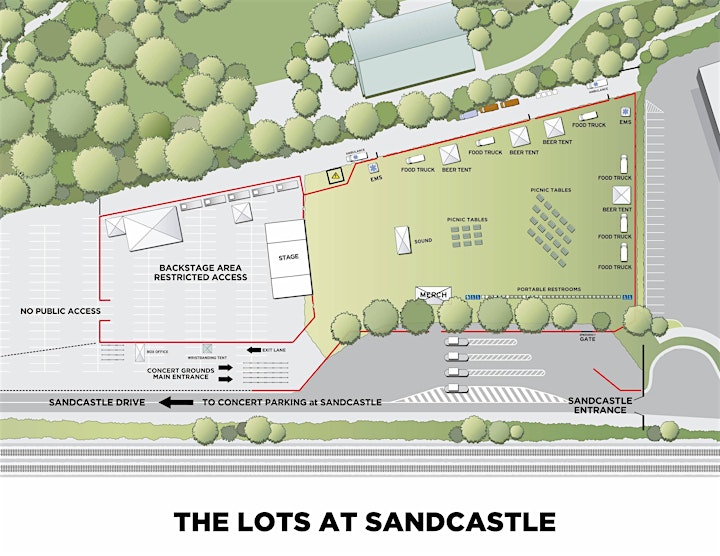 About Rancid:
Emerging from the blue-collar swamps of Berkley, California, Rancid has now been a living, breathing punk rock band for over a quarter century. Apparently, nothing can kill them.Back in 1991, after the demise of their much beloved and still influential first band, Operation Ivy, founding members Tim Armstrong (vocals, guitar) and Matt Freeman (bass, vocals) decided to do the impossible -- start an even better band.
Thus, Rancid. Signing with Epitaph Records, the band released their first album, "Rancid," in 1993. Shortly thereafter, Lars Frederiksen (vocals, guitar) joined the band, because... well, are you going to tell him he can't? The result, in 1994, was "Let's Go." People noticed. In 1995, Rancid released the classic platinum-selling "...And Out Come The Wolves." You still remember when you first heard it.
They followed with the even more ambitious "Life Won't Wait" in 1998, and in 2000, Rancid released another album entitled "Rancid," just to see if anyone was paying attention. After "Indestructible" in 2003, Branden Steineckert (drums) joined to solidify Rancid's current line-up. They subsequently released the albums "Let The Dominos Fall" (2009), "Honor Is All We Know" (2014), and "Trouble Maker" (2017). Through it all, Rancid has remained fiercely independent, never losing their loyalty to community or each other. Their music confronts political and social issues, while balancing personal tales of love, loss, and heartbreak with attitude. Rancid gives their listeners a community where everyone can belong. By carrying on the traditions and spirit of the original punk rock bands that came before, Rancid has become a legend an inspiration to punk bands that have come after. They are the living embodiment of East Bay punk. And if you don't know all this by now -- you're not playing their music loudenough!
See ya in the pit.
Venue Information:
The Lots at Sandcastle
1000 Sandcastle Dr.
West Homestead, PA, 15120