Show Info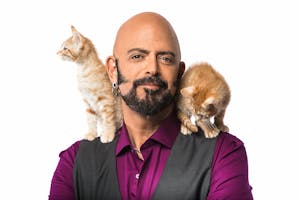 Drusky Entertainment Presents
Jackson Galaxy
Carnegie of Homestead Music Hall
Munhall
,
PA
Saturday, May 30th, 2020 | This event is all ages!
Host of Animal Planet's "My Cat From Hell" JACKSON GALAXY comes to the Music Hall on May 30th! Jackson Galaxy tickets go on sale Friday, February 14th at 10AM ET
Drusky Entertainment Presents
JACKSON GALAXY "Total Cat Mojo Live"
Saturday, May 30th, 2020
Doors: 7:00PM / Show: 8:00PM
Carnegie of Homestead Music Hall (Munhall, PA)
$29.00 - $49.00
Venue pre-sale: Wednesday, Feb 12th at 10AM
Public on-sale: Friday, Feb 14th at 10AM
This event is all ages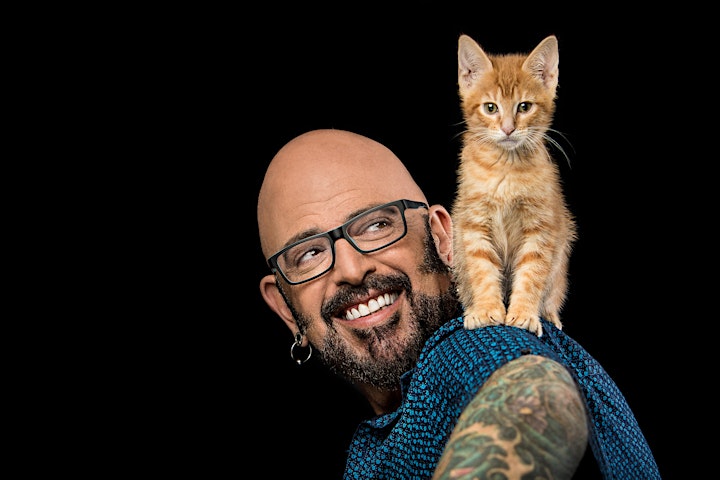 ABOUT JACKSON GALAXY:

Popularly known as "The Cat Daddy," Jackson Galaxy is the host and executive producer of Animal Planet's long running hit show "My Cat From Hell." Jackson, an animal advocate and cat behavior and wellness expert, is also a two-time New York Times best-selling author with more than 25 years of experience working with cats and their guardians. He is on a mission to educate people about cats and deepen the human and cat bond, while reducing the number of animals that end up in shelters.

Long before Jackson was known as "The Cat Daddy," the working musician found he had a unique ability to connect with cats when he took a job at a local animal shelter. During the decade that followed, he worked with thousands of cats, successfully lowering the euthanasia rate at his shelter. His work at the shelter led to a private practice of working with cat guardians and cats in their homes, which helped keep cats out of the shelter in the first place, and became the premise for "My Cat From Hell." An immediate hit, the show has been a broadcast staple for ten seasons and has become a global phenomenon, placing Jackson at the forefront of a worldwide obsession with all things feline.

All along, Jackson has stayed true to his roots as a shelter worker, educator, fervent advocate and in-home cat family therapist. At the root of Jackson's unique approach is a philosophy known as "Cat Mojo," which teaches cat guardians the skills to help their feline friends build confidence and thrive within their environment, and to better the human/cat relationship at the same time. Jackson has extensively detailed his work and life in his growing collection of authored books. His first, "Cat Daddy," is a memoir, telling the story of a life-changing relationship with a cat named Benny during his years as a musician, shelter worker and an addict struggling to find a path towards recovery. His subsequent books, co-written by Cat Style Expert Kate Benjamin from Hauspanther.com, "Catify to Satisfy" and "Catification," which both landed on the New York Times Best-Sellers List, focuses on designing a home that works for both cats and humans. His latest book, "Total Cat Mojo," is a comprehensive guide to his approach on total cat wellness and eliminating behavioral problems by understanding cats and their instinctive behavior.

Jackson has always been committed to bringing better products to the market that live up to his high standards. Jackson Galaxy Solutions, the only line of flower essence remedies designed by a behavior specialist and a veterinarian, has been helping animals live happier and healthier lives since 1995. More recently, his partnership with Petmate has brought a 20-year vision to fruition, providing innovative toys and products for every stage of a cat's life.

True to his goal of helping to save all animals, Jackson started the Jackson Galaxy Project in 2015, now a Signature Program of GreaterGood.org, which seeks to better the lives of at-risk animals by transforming the places they live and helping the people who care for them. Jackson spends much of his time these days devoted to growing the reach and impact of the life-saving JGP Programs and partnerships, including Cat Pawsitive, which focuses on giving shelters and rescue workers the tools to train cats in their care in order to help them find their mojo and get adopted, Safe Haven, which retrofits domestic violence shelters so victims can bring their pets when leaving an abusive home, and Operation Homeward Bound, which is a transport program that flies cats and dogs to shelters around the country that have more room to find them new homes.

Jackson has been featured on 20/20, The Today Show, The Ellen DeGeneres Show, The Late Show with Steven Colbert, The Tonight Show, EXTRA, The New York Times, USA Today, The Washington Post and more.

Venue Information:
Carnegie of Homestead Music Hall
510 East 10th Ave
Munhall, PA