Show Info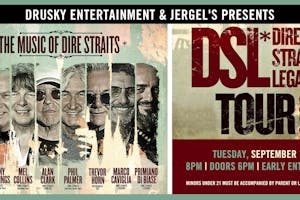 Jergels & Drusky Entertainment Presents
Dire Straits Legacy
Jergels
Warrendale
,
PA
Septembert 1st, 2020 | Minors Under 21 with Parent or Guardian
Don't miss the legacy to the great Dire Straits like you've never seen before! Dire Strait Legacy tickets go on sale Friday, April 10th at 10AM!
Jergels & Drusky Entertaiment Present
DIRE STRAITS LEGACY
Tuesday, September 1st, 2020
Doors: 6:00PM / Show: 8:00PM (Early Entry at 5PM)
Jergel's (Warrendale, PA)
$45.00 - $59.00
Tickets go on sale Friday, April 17th at 10AM!
Minors under 21 with parent or guardian
$45.00 Advance - $48.00 Day of Show - $59.00 Early Entry doors at 5PM
Early Entry tickets guarantee a seat in the venue. Seating cannot be reserved. General Admission tickets do not guarantee a seat.
The Dire Straits Legacy features past Dire Strait members:
Phil Palmer: Guitar / Vocals
Alan Clark: Keys
Trevor Horn: Bass / Vocals
Danny Cummins: Drums / Vocals
Mel Collins: Saxophone
Marco Caviglia: Lead Guitar
Primiano DiBiase: Keys
The closest to Dire Straits reforming you are ever going to get.

Dire Straits no longer exists, and any slim hope the band will reform and play another concert has been quashed by alleged reports that Mark Knopfler may never tour again. This band, DSL* Dire Straits Legacy is as close as you are ever going to get to Dire Straits reforming.

Band

PHIL PALMER Guitars & Vocals, MD

Phil joined Dire Straits in 1990 and played on the band's On Every Street record and world tour and on the On the Night live album. Regarded by his peers as one of the world's top guitarists, he's played on over 450 albums and toured with an impressive list of the world's greatest artists; think of a name and Phil has probably played with that artist. One of those artists was Eric Clapton, whose band he joined in 1988, and where he met his Dire Straits colleague Alan Clark. philpalmer.com

ALAN CLARK Keyboards

Alan joined Dire Straits in 1980 as the band's first keyboard player, and thereafter became the only member of the band besides Mark Knopfler to play on every track the band made. A co-producer of the "On Every Street" album, he was regarded as Dire Straits' musical director, and his influence on the band's music is apparent. In 2018, Alan was inducted into the Rock and Roll Hall of Fame as a significant member of Dire Straits. He has also played and recorded with a long list of other artists, including being a member of Eric Clapton's band and Tina Turner's musical director. More recently, he produced with Phil Palmer, the stunning 3 Chord Trick album by LEGACY, and very recently Alan, Phil and Trevor Horn produced Italian megastar Renato Zero's hugely successful album Zero il Folle. alanclarkmusic.com

TREVOR HORN Bass & Vocals

Trevor is a true legend in the music industry, and is widely regarded as the world's greatest records producer. He first came to the world's attention with The Buggles and his worldwide hit "Video Killed the Radio Star", then went on to produce some of the anthems of the Eighties, including ABC's "Lexicon of Love", Yes's "Owner of a Lonely Heart", and Frankie Goes to Hollywood's number one hits "Relax", "Two Tribes" and "The Power of Love". One of the two Grammy winners in this band, he has produced hits for Tina Turner, Tom Jones, Rod Stewart, Godley and Creme, Marc Almond, Barry Manilow, Cher, Boyzone, 10cc, Bryan Ferry, John Legend, Lisa Stansfield, Robbie Williams, Grace Jones, Simple Minds and many others, and somehow found the time to replace Jon Anderson as the vocalist in the band YES. But he started in the music business as a bass player, and while he's still producing major records, he somehow finds the time to play with us. And he's great! trevorhorn.com

DANNY CUMMINGS Percussions & Vocals

Danny joined Dire Straits as their percussionist in 1990 and played on the On Every Street album and tour, and the the On the Night live record. One of the few truly great percussion players of our generation, he's worked with many great artists including Tina Turner, George Michael, Bryan Adams, Pino Daniele, and he was Mark Knopfler's drummer for many years. Danny has just completed Mark's world tour, allegedly Mark's last, on this occasion as his percussionist.

MEL COLLINS Saxophone

A sublime player and a legend in the music world, Mel joined up with Dire Straits in 1982 and played on the Love over Gold album and tour, the Twisting by the Pool EP, and the iconic Alchemy live album. He's also played with a massive and ever-increasing list of major artists and bands that includes the Rolling Stones. An original member of King Crimson, he's currently on a very successful world tour with the original line-up of that band – when he's not with us, that is.

MARCO CAVIGLIA Lead Guitar and vocal

In love with the music of Dire Straits, and one of the world's leading authorities on the subject as well as being one of the very few guitarists gifted enough to emulate the guitar style of Mark Knopfler, Marco formed a band in 1988 to play the music, which later led to him touring with Mark Knopfler's sidekick Steve Phillips from the Notting Hillbillies. But his dream was to play with his Dire Straits "heroes", and that dream became true in 2007 when he played in Northern Italy with Dire Straits members Alan Clark and John Illsley, and later with Dire Straits' Phil Palmer, Pick Withers, Danny Cummings, Mel Collins and Jack Sonni, and now he's one of the fantastic line-up of Dire Straits members and renowned musicians that is DSL Dire Straits Legacy. mcaviglia.com

PRIMIANO DIBIASE Keyboards

Another Roman and a wonderful musician, Primi is probably Italy's most sought after keyboard player, a fact born out by his full diary, the long lists of records he's played on and shows he's played with artists that include Richard Bennett, Steve Phillips, Gigi Proietti and Neri Marcorè. He also plays great accordion, has two dogs, and is the nicest guy in the band.

Venue Information:
Jergels
103 Slade Lane, Warrendale, PA 15086
Warrendale, PA, 15086