Show Info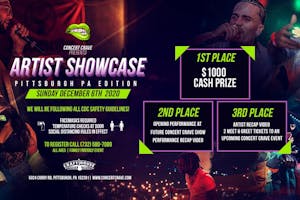 Concert Crave Artist Showcase - PITTSBURGH, PA 12.06.20
Crafthouse Stage & Grill
Pittsburgh
,
PA
$15.00 - $20.00
Sales Ended
On Eventbrite
A showcase where our desire is for artists to develop, compete, and rise to the occasion.
Concert Crave presents...
ARTIST SHOWCASE!
Sunday, December 6, 2020 | Doors 5:00pm
Pittsburgh, Pennsylvania - @ Crafthouse Stage & Grill
WE WILL BE FOLLOWING ALL CDC SAFETY GUIDELINES!
Patrons must be seated at tables, NO General Admission standing allowed.
Facemasks Required
Temperature Checks At Door
Social Distancing Rules In Effect!
To Register To Perform Call: (732) 580-7089 or Sign Up At: www.concertcrave.com/artists
Concert Crave​ ​is further establishing its name on the east coast every day. Each event has brought more and more interest into what is next for the production company. Artists are putting their best foot forward in establishing a successful career for themselves in the music industry. We are really impressed with the consistency, hunger and passion we have had the opportunity to witness as of late.

Concert Crave​ artist showcase wants to continue to turn up the heat. A showcase where our desire is for artists to develop, compete and rise to the occasion. We encourage promotion, rehearsal and professionalism; because we believe that the artist that are apart of the showcase are artists who take their craft seriously and want to elevate to the next level. If you do not come out on top, that doesn't mean you will not be put onto future shows with ​Concert Crave​. If you remain consistent, communicate and grind hard for what is yours. You will always be apart of the ​Concert Crave​ family.

All Ages To Enter | 21+ To Drink | Family Friendly Event! | Free Vendor Tables Available!

Tickets & Info: www.ConcertCrave.com

Venue Information:
Crafthouse Stage & Grill
5024 Curry Rd.

Pittsburgh, PA, 15236